Conveniently located on Colorado Blvd. in Denver's largest retail/shopping area, CELTA Training Center is situated on a major bus route, with a stop directly in front of the school. The school is within walking distance of many restaurants, hotels, and plenty of shopping, including the exclusive Cherry Creek area with boutiques and a beautiful shopping mall.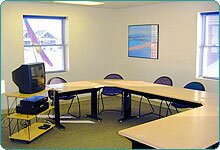 Our world-class facilities ensure that your CELTA program will be effective and that you will be comfortable during your stay. Our language center offers over 20 fully equipped group and private classrooms, a student lounge, and a multimedia laboratory and computer room.
Modern classrooms with plenty of natural light create a comfortable atmosphere conducive to learning. Each of our 20 classrooms feature air-conditioning, central heating, modern furniture, large U-shaped desks that facilitate conversation, and DVD players.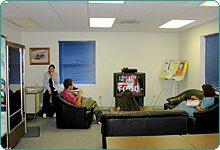 Our large student lounge is the perfect place to have lunch or study with other students after class. You can sit back and relax on our comfortable sofas and watch a DVD from our movie library on the large screen TV or call home and share your experiences with your family. There are also microwaves to heat up your lunch, vending machines with snacks and drinks, and a coffee machine to help you wake up before morning classes.