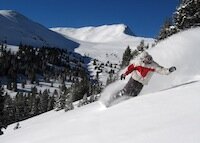 The Colorado Winter Adventures program, for ages 14 - 17 years old, runs from January 8 to January 28 for 2 or 3 weeks. This program combines an exciting week of winter activities and English courses at a world class ski resort in the Colorado Rocky Mountains with a one or two-week homestay program filled with interesting and diverse activities, classes and excursions in the friendly city of Denver.
Ski Resort - January 8 to January 15 (first week)
Students will stay at the Copper Mountain ski resort in shared rooms. English classes will be at the resort in the mornings and then the afternoons and evenings are packed with activities including skiing, snowboarding, ice skating, snow shoeing, tubing, outlet shopping, and visiting bustling historical mountain towns.
English Classes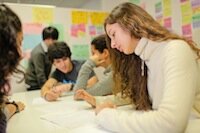 As with all our English programs, the English classes are student-centered, communicative, and designed for teens by highly qualified, experienced native-speaking teachers. Students have the opportunity to follow one of two ESL tracks:
General English: an experiential general English acquisition program filled with role playing, games and other fun techniques for gaining proficiency skills based on culture, the arts and sports common to the Rocky Mountains and Denver,
or
University Access: students work on foundational skills necessary for entrance to American academic institutions, including review of the application process and essay writing workshops, interview skills, research and note-taking techniques, oral presentations and tours of local universities.
Homestay - January 15 to January 28 (second, third weeks)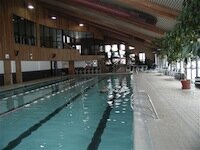 After leaving Copper Mountain, students then move to their homestay families in Denver where they will either be in a single room or share a room with another student or with an American host family member under 18! They will join with their fellow students to take our English classes in the morning at Johnson & Wales University and have the afternoons to go to the rodeo, ice skate, swim, explore Denver's museums, shops, galleries, and other exciting local attractions!