In addition to your regular English classes, English Language School in Denver organizes a wide range of activities and excursions to enhance your English Immersion experience. These activities are lead by an English teacher so you will be able to practice your English outside the classroom, while having fun!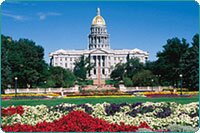 Tour of Downtown Denver
This guided tour of the city is a great way to familiarize yourself with your new "home away from home". You'll visit the State capitol building and see where all the important points of interest are including museums, the library, the U.S. mint, 16th street pedestrian mall, and more. This trip also includes a stop at the home of the Titanic's "Unsinkable Molly Brown".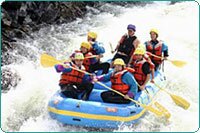 Whitewater Rafting
What could be more thrilling than crashing through class 4 and 5 rapids with your classmates! This is one of our most popular and exciting trips, one that students can't wait to share with their friends back home. And best of all, no experience required!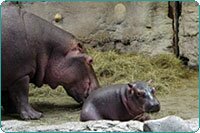 Denver Zoo
Open all year round, the Denver zoo is home to more than 3,000 animals and is considered one of the top ten zoos in the country!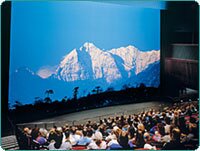 IMAX Theater
Experience the highest quality movies in the world; explore underground caves, retrace the journey of Lewis and Clark, or fly around the international space station in unbelievably vivid detail. The 13 X 20 meter curved screen and high-tech sound system make you feel like you are in the movie! Photo courtesy of Denver Museum of Natural Science.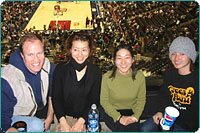 Sporting Events
Denver is known for its premier sports teams and world-class stadiums. We can help you get discounted tickets to basketball, soccer, baseball, or American football games. Don't miss this opportunity to experience American sports culture!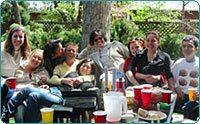 Social Gatherings
Like a close family, people at English Language School in Denver like to do things together. We invite our students to join teachers and staff in dozens of activities in order to have fun and practice English in a more relaxed social environment.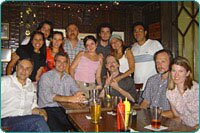 Social Hours
Throughout the year at local bars, restaurants, and cafes let you socialize with students and teachers.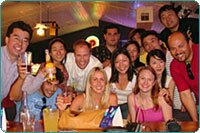 Potluck Parties allow you to sample different foods from around the world as well as share your country's food with fellow classmates.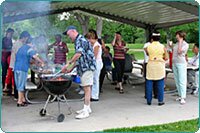 Picnics at a local park where students play sports and have lunch.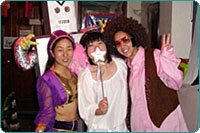 Holiday Parties for Christmas, Halloween, and Thanksgiving let you participate in American culture fist hand!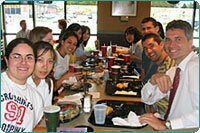 Group Lunch where all students are invited to go out to lunch with a teacher to a nearby restaurant twice a month.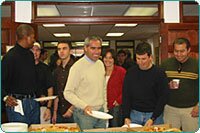 Graduation Ceremonies every Friday is an opportunity to say goodbye to students who have finished their course and celebrate their achievements!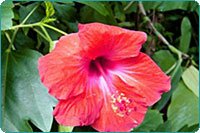 Denver Botanic Gardens
Relax in the Japanese gardens, stroll through flower-lined walkways, or climb to the top of the steamy indoor rainforest. The Botanic Gardens offers a tranquil place to unwind as well as get some great pictures of exotic flora!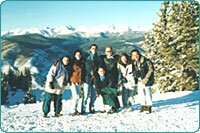 Skiing and Snowboarding
No trip to Colorado would be complete without experiencing our world-famous skiing and snowboarding. Because of the dry climate the snow is soft and powdery, and since the mountains are so big, the runs are wide-open and less crowded. All this is only a little more than an hour's drive from Denver!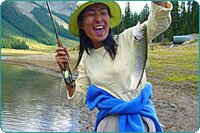 Fly Fishing
Colorado is famous for fly fishing and is home to several species of trout, including rainbow, brook, brown, cutthroat, and the Colorado state fish: the beautiful and rare greenback cutthroat. A professional fly-fishing guide and English teacher will take you to the remote mountain lakes and streams where these fish live and show you how to catch them.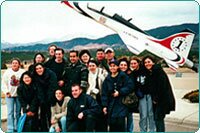 Air Force Academy
Come experience the legacy of one of the nation's finest military institutions. See the fleet of high-tech aircraft and the architecturally unique chapel.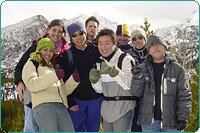 Snowshoeing
Hike through the Rocky Mountains while floating on a soft layer of snow. Snowshoeing is a unique and fun way to explore Colorado's majestic winter scenery!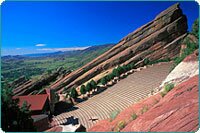 Rocky Mountain National Park
This is one of our most popular and unforgettable trips. You will drive along the highest paved highway in the world to reach awe-inspiring vistas and spectacular hiking. Bring the camera because you're likely to see elk, bighorn sheep, coyotes, and maybe even a mountain lion! A real adventure!