Academic English Program (AEP) offers the following:


Academic Classes: 23 hours a week of Mini-Group language classes. Our subjects include Writing, Reading, Grammar for Academic Writers, Listening, Speaking, and Academic Technology.


University Placement: We provide assistance researching schools, making information requests, completing applications, writing cover letters, and all other steps required to place students in a range of colleges and universities across the country.


Testing Services: The school offers a wide variety of tests and test preparation services, including the following:


IELTS (International English Language Testing System)
TOEFL iBT (Test of English as a Foreign Language - Internet-Based Test)
TOEIC (Test of English for International Communication)
UMPT (University of Michigan Placement Test) to monitor progress
Academic English Program Calendar: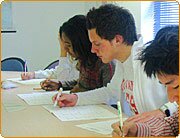 You can start the program from any term!
Winter Term:
January 7- March 28 (12 weeks)


Spring Term:
April 7- June 27 (12 weeks)


Summer Term:
July 7- September 26 (12 weeks)


Fall Term:
October 6 - December 19 (11 weeks)