In addition to regular English conversation classes, English Language School in Denver also offers several special courses designed to enhance your overall immersion experience. We are continuously developing new ideas for classes to make your program up-to-date, interesting, and fun as well as educational.
Newspapers and Current Events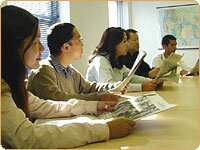 This class uses American Newspapers like the New York Times or The Denver Post as its curriculum. By reading different articles, students learn new vocabulary in a contemporary context and discuss current events in North America and abroad. Our low student/teacher ratio means you will have plenty of opportunity to participate in discussions, including cultural differences between newspapers in your country and the United States, such as advertisements, personal ads, headlines, and more. This class meets Fridays as your second group class with no additional fee.
Movie Class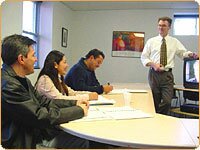 Watching English movies is a really fun way to build vocabulary and improve your listening comprehension. Because movie characters speak at the normal speed of a native speaker, you will learn how to understand native speakers more efficiently in common, everyday situations. The movies also expose you to many useful American expressions, which will improve your communication skills outside the classroom. This class meets Monday through Thursday after lunch in group classes with no additional fee.
Pronunciation Class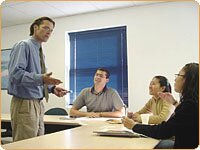 This class focuses only on pronunciation and is a wonderful complement to your regular class schedule. You will learn the correct pronunciation of English words, mouth positions, statement and question intonation, special pronunciation used by native speakers, and more! While this course helps you to be clearly understood by others, it also improves your listening skills by becoming familiar with how native speakers actually speak. This is an interactive class and you will have a lot of time to practice what you learn in class. This class meets Fridays after group classes for a minimal fee.
Music Class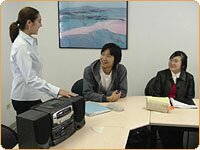 Learn English by listening to popular English Songs! This class is designed to help improve your listening comprehension and vocabulary while having fun. Students do various listening activities and participate in discussions about the meaning of lyrics. You will even have a chance to sing along and write your own lyrics! This has been one of the most popular classes with Bridge students. This class meets Fridays as your first group class with no additional fee.