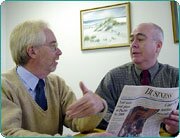 Every year, English Language School in Denver provides highly intensive English language training to hundreds of executives from all over the world.

Our Business English Immersion program is designed with the executive in mind, and courses are custom designed to meet our students' individual needs and interests.

At our school you'll find a dedicated and experienced faculty, the most modern and efficient methodology, the latest technology, and a friendly environment in which to learn your new language.

Our goal is to have you communicating effectively in English in the shortest time possible. All courses designed to meet your individual needs.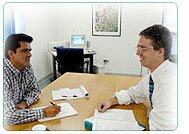 Curriculum is designed based on a combination of factors such as: your proficiency level, your proficiency goals, and your job-related English needs. We also design role-play situations to match your use of English in everyday life and in the workplace. We can prepare you for giving presentations, engaging in telephone conversations, corresponding with business email, faxes and more.

The job that you do in your particular field is unique and so are your needs in English. We have specially designed curriculum for lawyers, accountants, engineers, doctors, business people, geologists, artists, sales people, managers, government employees, software specialists, teachers, ministers, secretaries, graphics designers, real estate developers, architects, investors, and human resource specialists, just to name a few.

The school offers three different course formats which permits us to meet your individual needs, expectations and budgets. You can choose private instruction, a combination of private and group instruction, or group instruction.

All of our Executive Programs include airport pickup, access to fax, phone and email service, as well as discounted car rental rates. For more advantages of our program, see our Executive Services page.