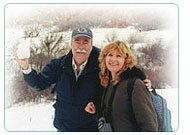 Live and Learn:
2 hours per day, or
10 hours per weekend

This unique program gives students an opportunity to visit Denver and other parts of Colorado, to practice the English they learn in class, and to learn about the differences between U.S. culture and their own.

The "Live and Learn" program offers first-hand experience as the most efficient way to receive cultural orientation. Each student will be accompanied by one of our instructors from 5:30 p.m. to 7:30 p.m. (time may vary depending upon the activity), Monday through Friday, and for 5 hours on Saturdays and Sundays. Student and teacher will visit a variety of interesting places within the city: museums, cultural activities, sporting events, shopping centers, and popular tourist areas in the beautiful Rocky Mountains.

This is an additional course to any of our Group or Private courses. Students pay all additional expenses incurred during the activity, including those of the instructor.