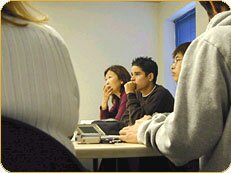 IELTS (International English Language Testing System) is the most widely administered test of English skills in the world. It is a comprehensive test of English language proficiency designed to assess the ability of non-native speakers of English who intend to study or train in English.

IELTS is accepted by over 1,200 colleges, universities, and companies in the United States.


IELTS Preparation Course

The IELTS Test Preparation Course focuses on giving students a clear understanding of the test and the skills and strategies needed to succeed in taking the IELTS. The course is designed for students who have a good understanding of the English language, and can be incorporated into our Academic English Program and University Placement Service. The efficient curriculum and our experienced teachers provide the needed training for students to successfully complete the test.

We also offer private one-on-one classes to meet your specific needs and goals. Packages of 12 and 36 hours are available with flexible schedules.

IELTS Test Preparation Courses are offered in four-week sessions followed by the official test.

English Language School in Denver is an officially recognized IELTS testing center. We offer the IELTS every month, and a 4-week preparation course before each official test!