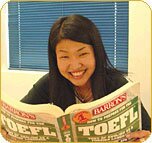 The Test of English as a Foreign Language (TOEFL) produced by Educational Testing Service is required by most U.S. and Canadian colleges and universities for the admission of foreign students. English Language School in Denver assists students in their efforts to pass the TOEFL by providing an intensive TOEFL preparation class for qualified individuals along with their regular classes.

This class focuses on the Computer Based TOEFL and helps students become both better acquainted with strategies for approaching the TOEFL as well as develop proficiency in the content areas: listening, structure, and reading comprehension. In addition, assistance with the essay component is available.

Private classes in TOEFL preparation are always available from specialist teachers. There is also a free practice TOEFL (paper-based) test, including an essay, available to all students on Fridays after group classes. This test is scored and the results made available the following week. Assistance is available in applying to the official TOEFL through your advisor.


TOEFL Guarantee

If you do not reach your required score after six months of TOEFL preparation classes at our English Language School in Denver, all TOEFL classes after that will be FREE until you do! We take TOEFL seriously and our guarantee shows our commitment to preparing our students for the academic and professional world. To be eligible for this offer, you must have a 70% or higher score on the placement test, attend class everyday, do all of the assignments, and take all the practice tests-what any good student wants to do!