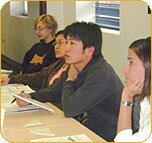 The Test of English for International Communication (TOEIC) produced by Educational Testing Service is often required by employers, companies, governments and other organizations to certify the English language level of an individual.

English Language School in Denver offers curriculum that is uniquely designed to prepare students for this test, especially as students enter upper-level classes where Business English is one of the topics offered. Realistic work in listening, speaking, vocabulary and structure are an ideal approach to preparing to take the TOEIC.

Private classes in TOEIC preparation are always available from specialist teachers. Group classes require a minimum of 4 students to open. In addition, there is a free TOEIC test available to all students on Fridays after group classes. The test is scored and the results are made available the following week.

Our English Language School in Denver is also an official testing center for the Open TOEIC test that is offered nationally one Saturday per month. Your advisor will be happy to help you apply for that on-line.