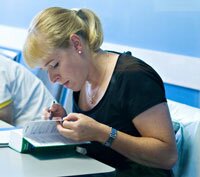 Business English Courses are offered by English Language School - Kalakaua Campus.

We have a wide-range of programs for students and companies with various goals and needs. Courses start from one week, from 10 lessons a week to 35 lessons a week. Students normally need to be at least upper-intermediate level (500) in English.

Certificate in Business English Program, 10 lessons/wk

This Business English program offers a skills-based approach to give focused practice in business communication. Students work with text models and useful language, and do writing and speaking tasks to consolidate the learning. Many of the activities deal with real-life business situations, helping learners acquire phrases, terms and dialogue commonly found in the work environment.

Class time: Tues-Fri 2pm-4pm.

Intensive English Program for Executives, 35 lessons/wk

This program is ideal for busy professionals who desire maximum learning in limited time. This comprehensive business program combines our Intensive English Program with our Certificate in Business English Program.

Class times: Mon-Fri 9am-1pm & Tues-Fri 2pm-4pm.

Business Elective Program, 20 and 25 lessons/wk

For students who want to study business communication as part of a General English program. Students in the Business Elective Program take the Business Communication course as a Skill 2 Elective in our regular morning programs, IEP or STEP. Business Communication is a popular topics-based course providing practice in the key skills of reading, speaking, listening and writing. The course examines business terms and functions, essential grammar, and authentic case studies.

Class times: Business Elective with IEP, Mon-Fri 8:50am-1:05pm. Business Elective with STEP, Tues-Fri 8:50am-1:05pm.