2018 Kids (K-STEP) and Teens (J-STEP) Summer Programs Announcement
Due to early demand, we have started accepting pre-registration for our 2018 Summer K-STEP and J-STEP programs (July 9 - August 17, 2018). Our summer K-STEP and J-STEP programs always fill up early, so early registration is highly recommended. All applications are considered in the order they received.
Our 2015 summer Kids and Teen programs were once again an amazing success with over 250 juniors from around the world taking part - some of them their second or third time!
Summer English Language Courses for Kids and Teens in Honolulu, Hawaii!
English Language Courses for Kids (K-STEP) and Teens (J-STEP) are offered by English Language School - Kalakaua Campus.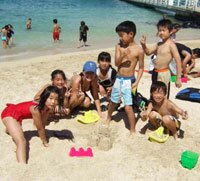 The school is proud to offer complete programming for children between the ages of 6-12 years old in the Kid Short Term English Program (K-STEP) and young adults between the ages of 13 - 17 years old in the Teen Short Term English Program (J-STEP).

Both programs have grown significantly in recent years, with over 300 students in our annual summer programs. English Language School - Kalakaua Campus provides students of all ages with quality language instruction and a fun exciting activity program.

The course is divided by age, and within the age groups we divide once again to higher and lower levels. The teachers, all of whom have extensive experience teaching ESL to kids, use games, music, drama and role-plays as well as textbook learning in the classroom.

Classes run from 9:00 am - 4:30 pm with lessons and different activities everyday.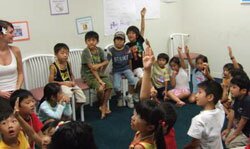 Our children come from all over the world: Japan, Korea, Taiwan, Switzerland, Germany, France, Italy, Russia etc. It is a great opportunity not only for them to practice English, but also to meet and learn about different cultures from around the world.

Students must be 13 as of July 1st to be in J-STEP. 6 year old K-STEP students must have completed a year of school, or currently be in school. For children 12 and over homestay can be arranged.

Parents who also want to study English at English Language School - Kalakaua Campus can join in a STEP course.

The K-STEP and J-STEP programs generally run for 6 weeks during the summer.
Letter from the program participants: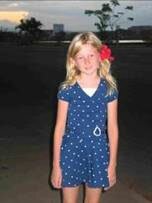 I just want to write you to thank you so much for my daughter Nadia Gullestrups (8 years old) 3 weeks stay with you last summer. I never took the time to write you, but since I am still daily reminded about her accomplishment in the school, I think I will take the opportunity now.

Before the school, she did not at all speak English. When we left she continued saying:

"No Japanese please!"

"Ninth floor going down" (probably the first child to have learned to speak English by an elevator)

and "Oh my God"

Than she started to talk to the dogs on the street "Bye, bye big dog" and than she continued to talk, talk and talk.

She and I travelled to the US and Polynesia for 4 months last year, and she still thinks that the 3 weeks spent with you was the best. As an nervous mother, I was concerned that my daughter was the only non-Japanese-speaking child in her class, but it turned out not to be a problem.

Half a year after her stay with you, she still goes on and on and on speaking English, and she does it quite well. I think your accomplishment is both to have taught her English but perhaps most to have motivated her to continuing her studying, after we left you. She really wanted it herself. So we started to read Dr. Seuss, and to talk. She herself started to write stories in English. In the beginning I was not to keen on that, since she is only in 2. grade and busy learning to write her own language Danish, and I thought she would mix it up. She did not.

So once again thank you so much for our 3 weeks with you!

Best wishes

Maria and Nadia
Denmark
Special Terms and Conditions of Cancellation and Refunds
Please note that considering that summer program for kids and teens are special programs with high demand and limited space, there are much stricter cancellation policies, then for our regular programs.

Application, registration and accommodation placement fees and the tuition deposit are non-refundable.

Activities fees included the program price ($260 per week) are non refundable starting May 1, 2018. If you cancel the course after 48 hours of application, but before May 1, 2018, no refund will be given on 50% of activity fee.

Other cancellation fees are charged as follows, and any balance is refunded less any bank charges and non-refundable items:


If the course is cancelled more than 40 days before the course begins: the cancellation fee is charged in the amount of the Tuition Deposit.


If the course is cancelled 40 days or less, but more than 30 days before the course begins: the cancellation fee is charged in the amount of Tuition Deposit plus 50% of the program fee (Activities fee is non-refundable after May 15).


There is no refund if the course is cancelled less than 30 days before the course begins.