Join Us in English-Learning Paradise in Honolulu, Hawaii!
Academic Track is a 4 months IEP program offered by English Language School - Kalakaua Campus for students 400 level or above planning to study in American colleges and universities.

Academic Track Program includes Academic English and Academic TOEFL classes. These classes are taken during the 2 skills classes (see Intensive English - IEP)

This is a four month course in which the students will start from the very basics to learn how to write effective essays in English. Just as all cultures and languages are different, so are writing styles in these cultures and languages. In this course, the students will learn skills that will help them organize information and communicate through essays using the style of organization that is accepted in English. They will start with prewriting, paragraph writing and revising and editing. Next, they will learn how to write a thesis statement and use this as a map to writing the rest of a traditional five paragraph essay. Then the students will continue to learn other essay styles and finally, how to write essay for specific purposes, such as university applications.
Students will be able to think of their own subject and choose a focus. They can develop this into a coherent, well-planned essay that the English speaker will find easy to follow. They will be able to do this in a wide range of academic styles and will be well-prepared for entry into an academic writing environment.
Upon successful completion of the Academic English Course, students may enter directly into Kapiolani Community College (KCC), part of the University of Hawaii College System without a TOEFL score.
Academic TOEFL in Honolulu, Hawaii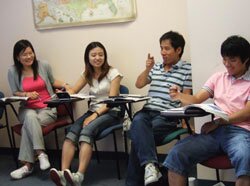 This course will cover specific skills students need for the IBT TOEFL exam. This includes listening, speaking, reading, writing, organizing and conveying ideas orally and in writing, and note taking. They will be exposed to the skill sets, and then practice under timed conditions to simulate the testing experience. There will be four timed practice exams in a course, every four weeks.
The course will also focus on skills students need to excel in an American college environment. Students will be responsible for weekly writing assignments and homework, preparing them for university course work deadlines. In-class pair and group discussions will build efficient group working skills, social group etiquette, and comfort with debating. There will be daily topics designed to accustom students to asking relevant and thought provoking questions.