The Military English program is developed for members of the armed forces who need to learn English for international cooperation. Whilst it is primarily designed for land forces, it contains relevant and functional English language material applicable to other military personnel.
Military English courses at English Language School in Phoenix are developed according to NATO's STANAG language profile and are offered at 3 levels:
Level 1 is aimed at False Beginners, taking them to exit-level SLP 2121, a level approximately equivalent to the Council of Europe's A2+ Waystage.


Level 2 is designed to take students from SLP 2121 to exit-level SLP 3232, approximately equivalent to the Council of Europe's B1+ Threshold.


Level 3 is designed to take students from SLP 3232 to exit-level SLP 3333, approximately equivalent to the Council of Europe's B2+ Vantage.
The topics are drawn from a variety of international military contexts, including the US, the UK, NATO and the UN, offering a skills-based approach to learning grammar and lexis which is immediately transferable to military exercises.
The Intensive Military English courses are offered in small groups and one-to-one. Our Military English students are asked to complete a needs analysis before starting the course, enabling teachers to assess their particular language requirements and to formulate a program tailored to the needs of each student. Your progress is constantly monitored, and your course is adapted to meet your needs and priorities. All students receive an individual written evaluation of their progress.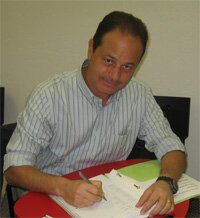 I would like to thank the school for its warm hospitality. A special thanks goes to all the management, Alex and Lena, for their effort in order to meet my special need in English for the Military.

Last, but not the least, a great "thank you very much" to my instructior, Ron, for his professional skill and his friendly approach during our lessons.

It has been really a great and satisfactory experience. Hoping to see you again next year.

"Arrivederci"
Lt.Col. Gianfranco Di Bella
Italian Air Force
English Language School in Phoenix offers Intensive Military English Program that has been specifically designed to cater for typical English courses in military environments. Each level provides approximately 200 class hours of instruction in a mini-group setting.
Intensive Military English Program deals with International English; it is not specifically British English or American English but the differences between them are highlighted throughout the course.
Courses start every Monday.
Duration
Mini-group course: 10 weeks (one level)
Customized one-to-one course: from one week
Minimum Level Required
Low Beginner
Lessons per week
20 mini-group lessons a week
Lesson length
45 minutes
Class schedule
Morning: from 9:00 am to 12:15 pm, Monday through Friday
Afternoon: from 12:30 pm to 16:15 pm, Monday through Friday
Class size
maximum 4, minimum 2 students. If there is only one student in the group class, the number of lessons is reduced to 10 one-to-one lessons a week.
Minimum age
18 years of age
Prices and Dates
Click here for prices and starting dates.