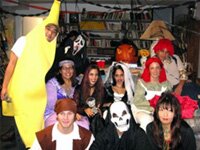 There are many attractions within an easy commute such as are Mormon Tabernacle, the Montgomery County Fairgrounds, Glen Echo Park, Sligo Creek Park, and the Shrine of the Immaculate Conception. Nearby institutions of higher learning are the University of Maryland, Montgomery Community College, Howard University and Catholic University. Music lovers can attend concerts at the USAir Arena, a short driving distance from Silver Spring. RFK Stadium is accessible by Metro for sporting and other events. Students can participate in the festivals that are held near the area (Georgia Avenue Day, Montgomery County Fair, Hispanic Festival, Takoma Park Day, etc.).
Things to see:
Silver Spring, in Acorn Park (corner of East-West Highway and Newell Street). The spring the area was named after -- now dry, but surrounded by a small park commemorating it.


The Old Tavern, in Silver Spring Library (on Colesville Road). A 1937 New Deal-era post office mural.


Mayor Lane Memorial Park, (Georgia Avenue at Mayor Lane Alley.) Bust of Norman Lane, a beloved local resident who lived in the nearby alley.


Baltimore & Ohio Railroad Station, 8100 Georgia Avenue. A restored station from 1945.


AFI Silver Theatre and Cultural Center, (corner of Georgia Avenue and Colesville Road). A 1938 theater, now restored and home to the American Film Institute and Shopping Center. Highly Recommended.


Discovery Channel Headquarters, Georgia Avenue between Wayne & Colesville, Check out the dinosaur skeleton in the lobby.