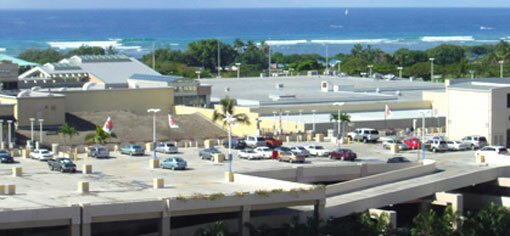 English Language schools in Honolulu, Hawaii. Accommodations.
At both English Language Schools in Honolulu, we do our best to find affordable, convenient accommodation for our students. We offer students a variety of accommodation options with a variety of price ranges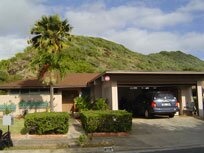 Homestay is our most affordable accommodation option available to students. But not only is homestay a reasonably priced choice, it also gives you the opportunity to use your English skills in a real environment and experience Hawaiian lifestyle first hand.

All of our homestay families have been been visited by our staff to ensure that you will have the best homestay experience possible.

In the homestay program you will:
have a private room
be provided with a self-serve breakfast and a hot dinner each day
be placed in a reliable family that has been carefully screened by the school
Although we understand that most students want to be placed as close as possible to the school, most of our homestay families are located in the suburban areas surrounding Honolulu. Most families live 45-60 minutes by bus from the school. If being close to the school is important to you, we recommend that you explore other accommodation options such as a condo in Waikiki or our shared student house (Manoa House).
Apartments & Condominiums.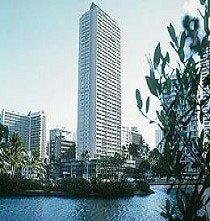 Condominiums or apartments in Waikiki are close to the school, the beach, and in the center of the tourist district. It is recommended for students who want convenience, and for couples and families. The rooms are furnished with one or two beds, a kitchenette and are usually air-conditioned. Most rooms are studios, but one or two bedrooms may be available at additional cost. We place students in various buildings around Waikiki, usually within 5 or 10 minutes walking distance from the school.

Rates:
From $550 per week
From $1,550 per month

Condos/apartments that our school places students in include:
Polynesian Plaza
Island Colony
Hawaiian Monarch
Aqua Palms
Aloha Surf Hotel Condominium
Student Residence in Waikiki
Through a special arrangement with Hana Student Suites, the school is able to offer affordable short-term and long-term stays in a fantastic location. One block from Waikiki Beach and a 10 minute walk from the school, it's perfect for students planning an active lifestyle in Hawaii.
All rooms come with a bed (or beds), desk, chest, a mini-fridge, air-conditioning, internet and a private bathroom. Students share the kitchen, lounge and coin laundry. There is also a 24-hour front desk. Minimum stay is two weeks.
Manoa House.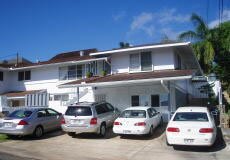 Manoa House is a unique accommodation option offered by English Language School - Kalakaua Campus. Manoa is located near the University of Hawaii. It is an affordable option, unlike many condos and hotels in Waikiki. It is perfect for students who are staying a month or longer. There is no lease.

Manoa House has 7 furnished bedrooms with shared living room, kitchen and bathrooms. There is a Washer and Dryer on the premises. Wireless internet is available for free throughout the house. Cable TV is also in the house. Students cook their own meals and do their own house keeping.
Dormitories in Hawaii.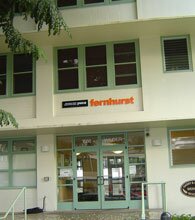 There are two main dormitories that students can stay at while in Hawaii. The YWCA Ferhurst is for women only and the Shinshu Kyokai Mission Dormitory is co-ed (both men and women can stay). Since the Shinshu Kyokai Dormintory is the only long-term dormitory that is reasonably priced reservations need to be made well in advanced (6+ months).

The YWCA offers nightly rates of $55 (single) or $45 (shared/per person) in a clean, comfortable secured building. The YWCA provides breakfast and dinner for its guests daily. The Shinshu Kyokai Mission Dormitory offers very basic private rooms with a shared kitchen ($500-$550/mo). Both dormitories have shared baths.

For more information, please visit dormitories' web sites at: