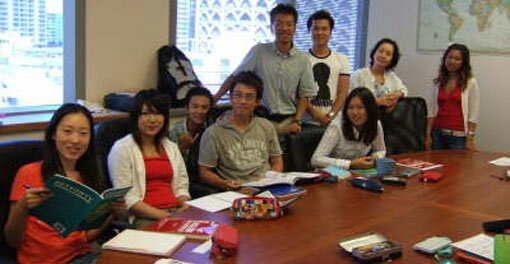 Join Us in English-Learning Paradise in Honolulu, Hawaii!
General English courses are offered by English Language School - Kalakaua Campus (Waikiki School) with 25 and 35 lessons a week (IEP and SIEP) and 20 lessons a week (STEP).
Intensive General English Program is a long-term IEP program for students who plan to study more than 20 hours per week and apply for an F-1 student visa. Students can study English in this program up to an academic year (36 weeks) at special discounted rates. Minimum age: 15.

Study Tuesday through Friday, 25 lessons a week. Students have Core and Skills classes Tuesday-Friday, 8:50am-1:05pm
8:50-10:20am - Core Course: a multi-skilled class that offers a full range of English skills such as Conversation, Listening, Reading, Grammar, Pronunciation, and more.


10:35am-11:45am - Grammar Class: a class using the Azar Grammar Book series to help build, or refine grammar skills.


12pm-1:05pm - Listening/Speaking Class: a class focused on creating group, pair, and individual speaking opportunities, as well as listening exercises.


Students also have Monday Elective Classes 8:50am-1:05pm. Courses offered include TOEIC, Reading & Vocabulary, Idioms, Pronunciation, and Conversation.


* If IEP students wish to study more than 25 lessons a week, they may take English Cafe for every 4 weeks of attendance.

The STEP General English course is designed just like the Intensive English Program - IEP, but is for students wanting to study for 20 lessons per week, Tuesday through Friday and do not apply for a student visa.

The STEP is perfect for people who want to build their confidence in communicating in English and have plenty of free time to explore all that beautiful Hawaii has to offer. With STEP you have the flexibility to join a program at any time and study for the length of your stay in Hawaii.
Click here to review Prices and Dates.
Level Descriptions for the General English Courses: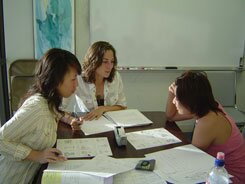 The school offers six levels of instruction in the Intensive (IEP) and sort-terms (STEP) General English programs for students from beginning to advanced levels. Other elective skill classes such as Academic English, Academic TOEFL, TOEIC, Cambridge, and Business English require students to test into Level 400 or above to enter the course. There is a minimum requirement of 4 students to hold an elective skill class.

Levels 100, 200, and 300 are primarily "building" levels. Students build their English foundation by learning new grammatical forms, and basic vocabulary as well as developing their listening, speaking, reading, and writing skills. Levels 400, 500, and 600 are "refining" levels. Students in these level continue to improve their English by comparing and contrasting grammatical forms and learning increasingly sophisticated ways of expressing their thoughts in English
Level 100
Students are able to say simple things such as "My name is..." and "I am from...", but have trouble speaking in complete sentences. Students usually do not use the past tense very much and have a limited vocabulary.


Level 200
Students can comfortably speak about everyday topics such as explaining what they did on the weekend ("I went to the beach") or future plans ("Next year, I will go back to my country.") but have difficulty explaining details and talking about topics they are not familiar with.


Level 300
Students are becoming more comfortable with English at this level. They can talk about their past experiences ("I have been to Spain three times.") but still make frequent mistakes in English.


Level 400
Students have been previously exposed to all the major tenses and grammatical forms in English. ("Next week, I will have been in Hawaii for 6 months.") Level 400 is considered a break through level. Students are beginning to master English and now need to focus on overall fluency. Level 400 students may still have difficulty following native speakers in an extended conversation.


Level 500
tudents can generally maintain a conversation with a native English speaker and express their opinions fairly completely. However, their English is still markedly foreign and does not use a full range of vocabulary or grammatical forms that a native speaker would. Students at this level continue to work on refining their English, building their vocabulary and learning how to express more subtle differences in their ideas.


Level 600
Students are able to speak comfortably in both familiar and unfamiliar situations. They may still make some mistakes but can often correct their own mistakes. Level 600 students continue to refine their language skills and build an advanced vocabulary. Many students in Level 600 are able to successfully pass university entrance exams and/or hold jobs where English fluency is required.