We offer different English language programs and courses at two English Language Schools in Waikiki, a safe and convenient business/tourist district of Honolulu that has many hotels, condominiums, apartments, shopping centers, bars and restaurants within a short walking distance of the School. Whether you enjoy shopping, international cuisine, an exciting nightlife, surfing, golfing, or just relaxing on the beach, Waikiki has it all!
English Language School - Kalakaua Campus

English Language School - Kalakaua Campus offers English classes that are carefully designed according to the latest research in teaching English as a second language:
Intensive and Short-Term English Program for college students and adult learners


English language and activities programs for children and teens from the ages of 6 to 12 (K-STEP) and 13 to 17 (J-STEP). These program take place for 2 weeks in December/January, for 2 weeks in March/April and for the entire months of July and August.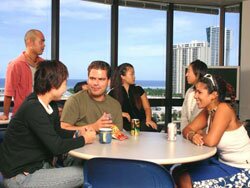 English Language School - Ala Moana Campus

English Language School - Ala Moana Campus offers the following programs:
General English courses from 2 to 48 weeks
Buisness English
TOEFL and TOEIC preparation courses
Cambride Exams preparation courses
University Pathway program
Summer Teen Activity English language program
Private English Tutoting
English plus Surfing
Click here to review the school's online brochure, choose the English language program that is right for you and apply online.