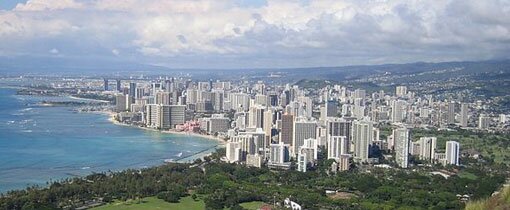 Learn English in Honolulu, Hawaii!
Located in the middle of the Pacific Ocean, the beautiful islands of Hawaii offer a relaxing and safe environment to study in. The Hawaiian Islands' geography features everything from lush rainforests, active volcanoes, unspoiled beaches, cascading waterfalls, tropical gorges, and fabulous scenic vistas. The "aloha spirit" of the people and the year-round tropical climate make the islands a true tropical paradise.
Honolulu, the capital of the state of Hawaii and largest city on the island of Oahu, is a cosmopolitan business, cultural and tourism center. There are beaches, rainforests, an extinct volcano, museums, historic buildings, shopping centers and parks all within walking distance of the school. The city's entertainment and tourist district, Waikiki is just outside the school's doors.
Hawaii's tropical climate allows for year-round outdoor recreational activities. Recreational areas for swimming, scuba diving, fishing, surfing, hiking, boating, golfing, skateboarding, roller blading, jogging, cycling and tennis are all within a 10-minute drive of the school.
Honolulu also has one of the best public transportation systems in the United States and is home to over seven college-level institutions. In addition, Honolulu is the host to many cultural festivals and special events throughout the year. Honolulu is easily accessible by air from many major cities and is within a 5-hour flight to the U.S. West Coast cities of Los Angeles, San Francisco and Seattle.
English Language Schools in Honolulu
Learning English can be fun in the right environment and beautiful Hawaii and the Schools are the best! Students from every country will find a fun, welcoming atmosphere at the school because of the extra care that we give and because of the interesting, multi-cultural students and well-traveled instructors. Our aim is to make everyone feel at home here at the English Language Schools in Hawaii.

With a wide choice of courses and accommodation options, our schools offer outstanding value for students who wish to learn English and experience life in Hawaii. Every year our English Language Schools in Honolulu welcome students from nearly 40 countries, creating a multicultural environment in which to learn English and make friends.
Location and Facilities
We offer different English language programs and courses at two English Language Schools in Honolulu.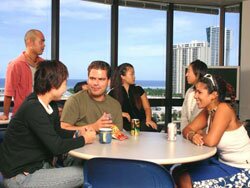 English Language School - Ala Moana Campus is conveniently located in an attractive modern office building on the edge of Waikiki and steps away from the Ala Moana Shopping Center, the largest outdoor shopping center in the US. The school offers panoramic views of the nearby beaches and mountains and provides students with a comfortable place to relax, socialize and study.

The main bus and transport routes are close by and the location of the school is central tothe finest dining, shopping and entertainment facilities.

Facilities:
14 classrooms with ocean and mountain views.**
A new multi-media computer lab (26 stations).
Free internet access and wireless network.
Student lounge with TV, vending machines, microwave, fridge, free coffee and tea.
Cable TV, DVD, VCR.
**Some classes may be held off campus during the high season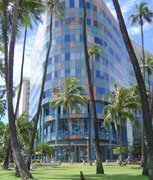 English Language School - Kalakaua Campus (Waikiki) is located the modern Kalakaua Center Building within a 3 minute walk from the world-famous Waikiki Beach. Waikiki is a safe and convenient business/tourist district of Honolulu that has many hotels, condominiums, apartments, shopping centers, bars and restaurants within a short walking distance of the School. Whether you enjoy shopping, international cuisine, an exciting nightlife, surfing, golfing, or just relaxing on the beach, Waikiki has it all!



Facilities:
10 ocean and mountain view classrooms.
Computer room.
Free internet and wireless network.
Student lounge and study area
Snack Cafe with coffee, tea, bottled water, and a variety of snacks

Since it was established in 1984 on the University campus in Honolulu, this English Language School has had a firm commitment to excellence as demonstrated by the over 6,000 students that have participated in our programs. The School was founded as an intensive English program designed to help international students gain the language proficiency required to enter a college or university in the United States.