Learn English in San Diego, California!
San Diego is one of the safest and fun cities in America. It is known for its year round warm climate, allowing for all kinds of activities. San Diego has a temperate Mediterranean climate. It enjoys mild, dry-summer subtropical, sunny weather throughout the year. Average monthly temperatures range from about 14 C in January to 22 C in July, although late summer and early autumn are typically the hottest times of the year.
"Approximately 1.2 million people live in San Diego, making it the 7th largest city in the United States. Although the city's population keeps increasing, San Diego has not lost its small town ambiance, and it retains a strong connection with its Hispanic heritage and culture" (Frommer's Portable San Diego, p. 1).
San Diego's economy is largely composed of agriculture, biotechnology/biosciences, computer sciences, electronics manufacturing, defense-related manufacturing, financial and business services, ship-repair and construction, software development, telecommunications, and tourism.
Tourism has affected the city's culture, as San Diego houses many tourist attractions, such as SeaWorld San Diego, Belmont amusement park, San Diego Zoo, San Diego Wild Animal Park, and nearby Legoland. San Diego's Spanish influence can be seen in the many historic sites across the city, such as the Spanish missions and Balboa Park. Cuisine in San Diego is diverse, and there is an abundance of wood fired California-style pizzas, and Mexican and East Asian cuisine. Annual events in San Diego include Comic-Con, San Diego/Del Mar Fair, and Street Scene Music Festival.
Have fun learning English while at the same time enjoying a San Diego vacation.
English Language School in San Diego.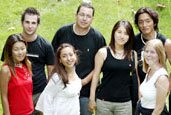 Our English Language School in Denver is ready to provide you with the highest quality learning environment that will prepare you to be successful academically in American universities and colleges, as well as to be professionally competitive. This is our goal, this is our promise to you!


The school has over 15 years of experience teaching English as a Second Language. We are a small, high-quality school, which allows us to provide personal attention to each and every one of our students. From the moment you arrive at the airport in San Diego, we take every step to make your stay with us rewarding and enjoyable.

Our services do not stop at the end of your program with us. We are excited about helping you achieve your dreams. We are working to place you in universities or colleges in the United States, the U.K., Canada or Australia or help you find an internship that will provide you with practical experience in your area of interest. We are "Your Complete Solution."

Every Monday, students start from new and different countries. Students are from Belgium, Bolivia, Brazil, Czech Republic, China, Colombia, France, Germany, Ghana, Hungary, Iceland, India, Italy, Japan, Korea, Mexico, Peru, Sweden, Switzerland, Taiwan, Thailand, Turkey, Venezuela, Vietnam and Yemen.

The numbers of students from any one country varies every week. However, the percentage of Japanese students can be about 20 percent. To maintain balance, the classes include as many students from different countries as possible. There may, however, be more students from any one given country.

Students ages range from 15 years to 83 years old, but most are in their 20's.
Location and Facilities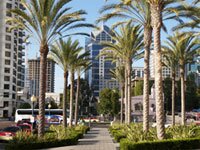 Our San Diego campus is set in the heart of Mission Valley, just minutes away from downtown San Diego, close to the Fashion Valley shopping mall with more than 200 shops and restaurants. The Fashion Valley bus and trolley stop is located within walking distance from the school offering easy access to all areas of San Diego.




Our world-class facilities ensure that your English program will be effective and that you will be comfortable during your stay. Our language school offers fully equipped classrooms, a student lounge, and a multimedia laboratory and computer room.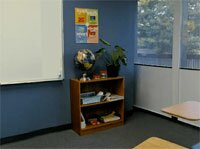 Modern classrooms with plenty of natural light create a comfortable atmosphere conducive to learning. Each classroom feature air-conditioning, central heating and modern furniture.

Students will have access to additional books and learning materials and may use the self study area for homework or personal studies after class. A comfortable student lounge with vending machines is available for students during breaks and after class.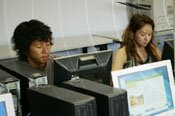 In our Computer lab, you can use our multi-media computers to practice your English with language software or e-mail friends and family back home. Each computer features full Internet access and some have foreign language word processing programs. Our computer lab consists of 30 new computers with the latest language learning software.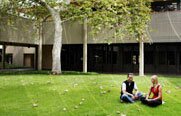 A comfortable student lounge with vending machines is available for students during breaks and after class. You can also relax in the school's outside area....

English Language School in San Diego goal is to set and maintain high educational standards and effective instructional techniques.

We are proud to list some of our approvals and affiliations, as follows:
United States Department of Justice, Immigration and Naturalization Service authorization to accept international students and issue I-20 forms for F-1 visas;
Bureau for Private Postsecondary and Vocational Education (BPPVE);
National Association of Foreign Student Advisors (NAFSA);
American Association of Intensive English Programs (AAIEP);
Teachers of English as Second or Other Language (TESOL);
California Association or Teachers of English as a Second or Other Language;
California Association of Private Postsecondary Schools (CAPPS).