Home > English Language Schools in California
Learn English in California, USA!
California is a state on the West Coast of the United States, along the Pacific Ocean. It is the most populous U.S. state. Its four largest cities are Los Angeles, San Diego, San Jose, and San Francisco. It is known for its varied climate and geography, as well as for its ethnically diverse population.

International Partners for Study Abroad offer you different English language courses in California for college and high school students, executives and professionals, teachers of English and interested adult learners.
We also offer Junior Residential summer program in San Francisco. These summer English program will give your children a unique opportunity to learn English and enjoy summer in the United States.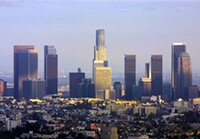 English Language School in Los Angeles is a great place to study English, work on improving your TOEFL or TOEIC score, improving your Business English, and make new international friends. Our school provides quality language courses in a comfortable atmosphere. We offer full time English as a Second Language (ESL) and TOEFL Preparation courses at our school.


Our school is located in the City of Torrance which is one of the SAFEST cities in the Southbay, part of the Los Angeles county, within minutes from Santa Monica, Malibu Beach, and Beverly Hills.

Learning English is much more than sitting in a classroom. Meeting people, talking to shopkeepers, playing sports and watching movies can all be used as tools to teach students in a lively, interactive way and allow them to immerse themselves in the North American lifestyle. We also make sure students don't miss out on the best tourist activities and attractions.

Click here to review the online brochure of the English Language school in Los Angeles, choose the English language program that is right for you and apply online.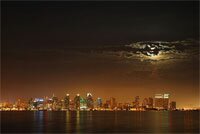 English Language School in San Diego combines the wisdom of an experienced language school and the energy of its culturally diverse young and creative leaders. For 15 years, the school in San Diego has helped thousands of students achieve proficiency in the English language.


Our San Diego campus is set in the heart of Mission Valley, just minutes away from downtown San Diego. San Diego is a relaxed city with a cosmopolitan flair. Approximately 1.2 million people live in San Diego, making it the 7th largest city in the United States.

In addition to academic English learning programs, there is a set of organized activities for enjoyment and cultural appreciation. From San Diego's historical downtown, art galleries, and sport events to field trips to Los Angeles, Joshua Tree National Park, the Palomar Mountain observatory, and all the best that Southern California offers, these exciting destinations will help you practice your new language skills.

Click here to review the online brochure of the English Language school in San Diego, choose the English language program that is right for you and apply online.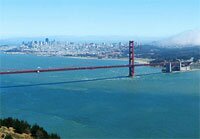 English Language School in San Francisco, California is your key to unlocking the English language.

You will study with world-class teachers, build new friendships, and discover the energy of America's most fascinating city!

English Language School in San Francisco is situated in the heart of the city, minutes from the cable cars to Chinatown and Fisherman's Wharf, the Museum of Modern Art, the shops on Union Square, and a boat ride on the bay. You can watch the excitement of the city in action from your classroom!

San Francisco is the ideal place to study English and learn about American culture, offering excellent opportunities in sports, entertainment and the arts. The city is surrounded by spectacular beaches, and you can sail or surf all year round.

The cosmopolitain city of San Francisco has long been a favorite destination for language travelers. The combination of a mild year-round climate, fantastic sightseeing, shops and restaurants, bars and night-life, and some of the most beautiful scenery in the USA, ensures a steady flow of visitors to this relaxed, diverse and above all welcoming city. Language students are sure to find the San Francisco Bay Area a fun, safe and friendly environment in which to live and study

We use a communicative approach, which aims in particular to improve speaking and listening skills. We also help you develop your reading and writing abilities. Morning lessons cover new grammar, structures and vocabulary, according to your needs and priorities. Afternoon classes focus specifically on extending your range of vocabulary and idioms on topics chosen by you, and on improving your fluency and accuracy. We make use of San Francisco as a learning environment and provide lots of opportunities for you to learn as much authentic English as possible.

At our School there is a strict maximum of 12 students per General/Intensive English course, and a maximum 5 students for Group Executive classes.

Click here to review the online brochure of the English Language school in San Francisco, choose the English language program that is right for you and apply online.
Learn more about California.
Much of the state has a Mediterranean climate, with cool, rainy winters and dry summers. Ecologically, California is one of the richest and most diverse parts of the world and includes some of the most endangered ecological communities.

The gross state product is the largest in the United States. California is responsible for 13% of the United States gross domestic product. California's GDP is larger than all but seven countries in the world.

California is also the home of several significant economic regions, such as Hollywood (entertainment), the California Central Valley (agriculture), the Silicon Valley and Tech Coast (computers and high tech), and wine producing regions, such as the Napa Valley, Sonoma Valley and Southern California's Santa Barbara and Paso Robles areas.

California offers a unique three-tier system of public postsecondary education:
The preeminent research university system in the state is the University of California (UC) which employs more Nobel Prize laureates than any other institution in the world, and is considered one of the world's finest public university systems. There are ten general UC campuses, and a number of specialized campuses in the UC system.


The California State University (CSU) system has over 400,000 students, making it the largest university system in the United States. It is intended to accept the top one-third (1/3) of high school students. The CSU schools are primarily intended for undergraduate education.


The California Community Colleges system provides lower division courses. It is composed of 109 colleges, serving a student population of over 2.9 million.
California is also home to such notable private universities and colleges as Stanford University, the University of Southern California (USC), the California Institute of Technology (Caltech), Occidental College, and the Claremont Colleges. California has hundreds of other private colleges and universities, including many religious and special-purpose institutions.

For many of our English language students, English language courses at our schools in California is the first step before entering Undergraduate and Graduate university programs. Student advisor at our English language schools will be happy to assist you.