Our Intensive General English ESL classes are communicative based with an emphasis on developing speaking and listening skills. Students also learn grammar and structure and develop their reading and writing skills. The goal of our ESL classes is to make you comfortable using English in any situation you may encounter in everyday life.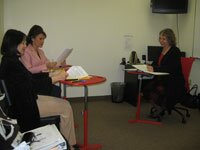 Outstanding teachers will provide you with the ability and confidence you need to face the world in English. All our teachers are highly qualified native English speakers with university degrees and many years of experience in teaching English as a Second Language.
You will study English in small groups 4 class hours a day, Monday through Friday (20 lessons a week). You can start the Intensive course any Monday and study from one week to 36 weeks.
Classes are small with no more than 8 students in the class.
Intensive General English classes are offered at 4 levels:
Low Beginners.
High Beginners.
Intermediate 1.
Intermediate 2.
General English at Advanced level is offered as a private one-to-one course.
You will be placed with students of your level and will study in a setting that is comfortable for adult learners. Students must take the placement test before the beginning of their classes. The duration of the placement test is 1 hour 20 minutes. You can take the test Monday through Thursday from 12 pm to 4:30 pm.
Levels
Low Beginners - Intermediate 2
Session Duration
from 1 week to 36 weeks
Lessons per week
Intensive course: 20 lessons a week
Intensive Plus: 28 lessons a week
Lesson length
45 minutes
Class schedule
Intensive course: 9:00 am to 12:15 pm
Intensive Plus: 9:00 am to 2:30 pm
Class size
maximum 8, minimum 3 students. If there are only one or two students in the class, the number of lessons is reduced to 10 private (semi-private) General English lessons a week and 4 private (semi-private) lessons of Elective classes.
Minimum age
16 years of age
Prices and Dates
You can start the course any Monday. Click here to review prices.
Intensive Plus General English Program
Intensive Plus General English Program offers 28 lessons a week. In addition to 20 daily lessons of General English in the morning, you will have two lessons in the afternoon from 1.00 PM to 2:30 PM Monday through Thursday.
Afternoon classes focus specifically on improving your communication skills, extending the range of vocabulary and idioms on topics chosen by the student, and on improving the fluency and accuracy.
You can also choose from the following Special ESL Courses:
All these Special ESL courses can be also taken separately as private one-to-one courses.
Sample Schedule of the Intensive General English and Intensive Plus Program
| | | | | | |
| --- | --- | --- | --- | --- | --- |
| | Monday | Tuesday | Wednesday | Thursday | Friday |
| 9:00am - 10:30am | General English | General English | General English | General English | General English |
| 10:45am - 12:15pm | General English | General English | General English | General English | General English |
| 1:00pm - 2:30pm | American Idioms | English for Telephoning | English in the Workplace | Writing Skills | |