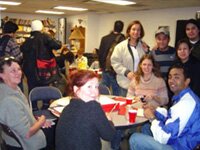 Our English Language School in Washington is a great place to study English and make new international friends. Our school provides quality English language courses in a comfortable atmosphere. We offer English workshops, intensive english courses, part-time english courses, private courses and TOEFL Preparation courses at our school.
Our English school is located within walking distance of Georgetown, a vibrant, cosmopolitan neighborhood with restaurants, shopping, movie theaters, and an exciting nightlife for your enjoyment.
Washington, D.C., is the capital of the United States of America. It is a planned city, designed specifically to house the federal government, and is not part of any state. Its history, beautiful architecture, and excellent cultural centers attract millions of visitors each year. The city itself is a vibrant metropolis that often has little to do with monuments, politics, or white, neoclassical buildings.