Home > English Language Schools in Arizona

Learn English in Phoenix, Arizona, USA!
The State of Arizona is a state located in the southwestern region of the United States of America. Arizona is noted for its desert climate, hot summers and mild winters, but the high country in the north features pine forests and mountain ranges with cooler weather than the lower deserts. Arizona is the fastest growing state in the United States.

Phoenix is the capital and the most populous city of the State of Arizona. It is the most populous capital city in the United States. Phoenix's estimated population as of 2006 was 1,512,986, making it the fifth largest city in the United States. At 515 square miles, it covers an area larger than New York City, Philadelphia, and Miami combined, making it the biggest state capital and the 10th largest land area for a city in the United States.

International Partners for Study Abroad offer you English learning programs in Arizona at the unique English language school in Phoenix. Click on the school name to review the school's online brochure.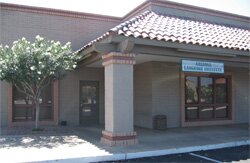 English Language School in Phoenix, Arizona offers custom designed programs for executives and professionals, college students and interested adult English learners who have limited time to improve their English-language skills and want to combine their English studies with vacation travel in Arizona.



Our private one-to-one and mini-group courses are fast-paced, flexible and academically rigorous. At the English Language School in Phoenix, you will get a unique immersion linguistic-cultural experience where you will 'live' English 24 hours a day.

English Language School in Phoenix offers you a stress free, relaxing and comfortable environment along with advanced learning materials (video, DVD, audio, computer) and other essential learning tools and materials to guarantee your success in learning English.

Choose from Intensive General English in mini-groups with no more than 6 students, Business English, English for Executives and Professionals, TOEFL, IELTS, GMAT and GRE preparation, part time ESL (evenings and Saturdays) or private English tutoring.

Arizona - with the exciting year round events, the worlds top resorts, restaurants and nightlife - has become one of the top vacations destinations in the world. Arizona has the best climate of any U.S. states and a great location - just a few hours drive to Las Vegas, San Diego, Los Angeles and the Grand Canyon.

The Grand Canyon, one of the Seven Wonders of the World exists among lush desert landscapes, crystal-clear waters and breathtaking mountain peaks. From small communities to one of the fastest growing cities in the United States, Arizona offers English language travelers unique experiences packed with hospitality, adventure, and stunning sights.

Click here to review the school's online brochure, choose the English language program that is right for you and apply online.