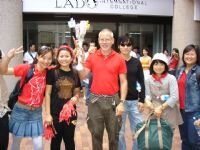 Our English Language School in Arlington is a great place to study English and make new international friends. Our school provides quality English language courses in a comfortable atmosphere. We offer English workshops, intensive english courses, part-time english courses, private courses and TOEFL Preparation courses at our school.
Our English school is located just minutes across the Potomac River from Washington, DC. Its location in Northern Virginia makes the Arlington Center easily accessible by car, metrorail, and metrobus to a wide range of affordable restaurants, shopping areas (Pentagon City, Ballston Mall, Potomac Mills Shopping Outlet), and cultural attractions.
Arlington is an urban county in Virginia. Arlington is located directly across the Potomac River from Washington, D.C. With a land area of only about 26 square miles and a population of close to 200,000, Arlington is one of America's mostly densely populated jurisdictions.