Home > English Language Schools in New York
Learn English in New York City, USA!

English Language School in New York City offer high quality English as a Second language courses for adult learners and children, executives and professionals.

New York City, which is both the largest city in the state and in the United States, is known for its history as a gateway for immigration to the United States.

For more than a century, New York City has been one of the world's major centers of commerce and finance. New York City is rated as an alpha world city for its global influences in media, politics, education, entertainment, arts and fashion. The city is also a major center for foreign affairs, hosting the headquarters of the United Nations.

Follow the link to visit the school's online brochure with detailed description of the school, programs, accommodation options, activities, prices and enrollment process.

Welcome to New York! We are here to help you with all your English language needs!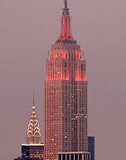 English Language School in Manhattan, New York City is located in the heart of Manhattan on Fifth Avenue, next to the Empire State Building. Within walking distance of our school, students can visit such famous places as the New York Public Library, Bryant Park, the Theater District, Times Square, and lots of places to eat and shop.

Our school offers small, student-centered language classes. The class size is limited and there are various types of classes for many different levels of students. For a better learning environment, students are divided into appropriate levels. We offer both full and part time classes with convenient schedules.

Click here to review the school's online brochure, choose the English language program that is right for you and apply online.