Most of our English Language Schools in all countries offer Business English courses for Executives and Professionals. We would recommend to review the following programs.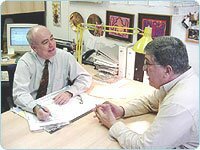 At our English Language School in Denver, Colorado, USA, Business English courses are designed with the executive in mind, and courses are custom designed to meet our students' individual needs and interests. The Director and ESL Director will work individually with you to carefully select a curriculum that meets your special needs. Your background in English, your goals in learning, as well as your job-related English needs are all taken into consideration when deciding on curriculum to be used in your course of study. You can choose from among a variety of Elective Business English courses to enhance your English language training in Denver.

English Language School in Boston, Massachusetts, USA offers a Business English Program for executives, managers and other professionals of the business world who have limited time to improve their English-language skills. The Business English Program is a specialized course which is fast-paced, flexible and academically rigorous- one that compliments the very needs of the clientele it serves.
Business courses can be taken as an intensive one-week module or for an unlimited number of weeks. For maximum student-to-teacher attention, classes are small with a maximum of five students and a minimum of two.

Platinum Business English Courses are offered at English Language School in
Requirements and Class size
Minimum Age: 21 years and over. The average age of our clients is 30 - 49 years.
Max group class size: 5
Minimum duration: 1 week
Level: intermediate to advanced